Our glamping and eco-resort operators directory focuses on the industry's latest new and fresh offerings, with a focus on emerging multi-location operators.   Glamping, eco-tourism, eco-resorts are part of one industry that is based simply on the desire among consumers for something more unique, more sustainable, and more about nature, than typical overnight accommodations.
The Emergence of National and International Operators.
In recent years, the assortment of small-scale "mom and pop" glamping owner-operators around the world, began to be joined by national companies seeking scale and market share in this industry.  In the U.S., these new operators include AutoCamp (2013), Collective Retreats (2015), and Under Canvas (2009), among others.    These companies are successfully integrating the desire for eco-tourism and eco-resorts, known for their unique destination settings, with glamping which is known for its unique range of accommodation types.
We expect these companies to do quite well in the post Covid-19 pandemic era, as they achieve greater scale and brand recognition.
Although a different kind of lodging, we think the branding sensibilities for glamping and eco-tourism will need to be something akin to the famed Rock Resorts established by Laurance Rockefeller back in 1956.   Rock Resorts were a chain of resorts, but each was unique and the branding was more about the association of these unique resort settings, rather than the assertion of standardized food service, room configurations and amenities, and the like.
History of Glamping
Eco-tourism emerged in the 1970's.  Some would assert that Maho Bay Camps (U.S. Virgin Islands) pioneered the concept starting in 1976, and its a good claim.      European Eco-labeling of hotels was introduced in 2003, although a hotel labelled as such is not necessary an eco-resort.
Glamping started to catch fire as an Internet search term in 2007, so many trace the beginnings of this new industry to that time.   Those were the days of single site glamping and eco-resort operators pioneering the concept of a camping experience with more home-like conveniences.   Just over a decade later, new national operators are emerging, as noted in our Glamping & Eco-Resort Operators directory (below).   We think that "customized" offerings from Airbnb, which got started in 2008, likely helped to propel consumer interest in unique overnight stay offerings.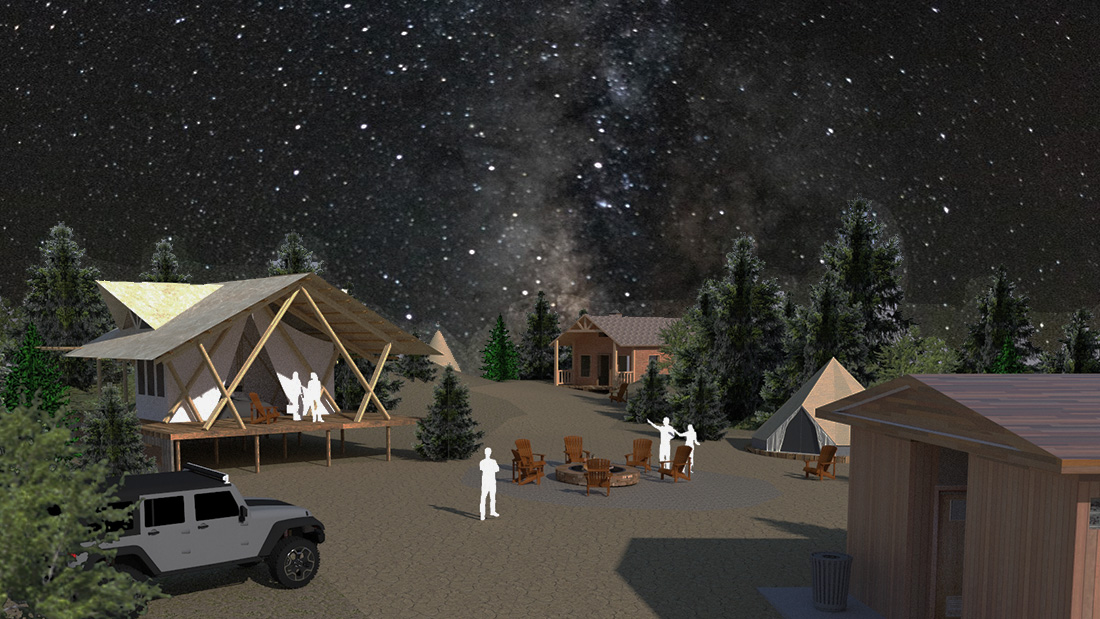 What is Glamping?
There is a broad definition for this industry as well as for which accommodations fit into a definition of glamping and eco-resorts.   But the allure certainly begins with a unique place to stay, in a beautiful natural setting, with some level of services, amenities, and food (and beverage) services, to make the stay just a bit comfortable.  Sometimes with sufficient comfort for those that enjoy luxury hotel stays.   And with those accommodations offered in an eco-resort setting, there is also the "go green" sensibility at work.
Guest units at glamping and eco-resorts venues can take on almost any format, the only limitation being the creativity of the facility operator.   Common formats for these overnight accommodations include canvas tents on platforms, yurts, treehouses, cabins, and customized recreational vehicles ("RV's").   In the U.S. sometimes Native American teepees (or tipi) or settler's covered wagons (of the American West) are among the offerings.   Then there are the uncommon offerings provided by glamping and eco-resort operators, such as prefabricated pods, geodesic domes, even open-air platforms with the "dark sky" as your roof.