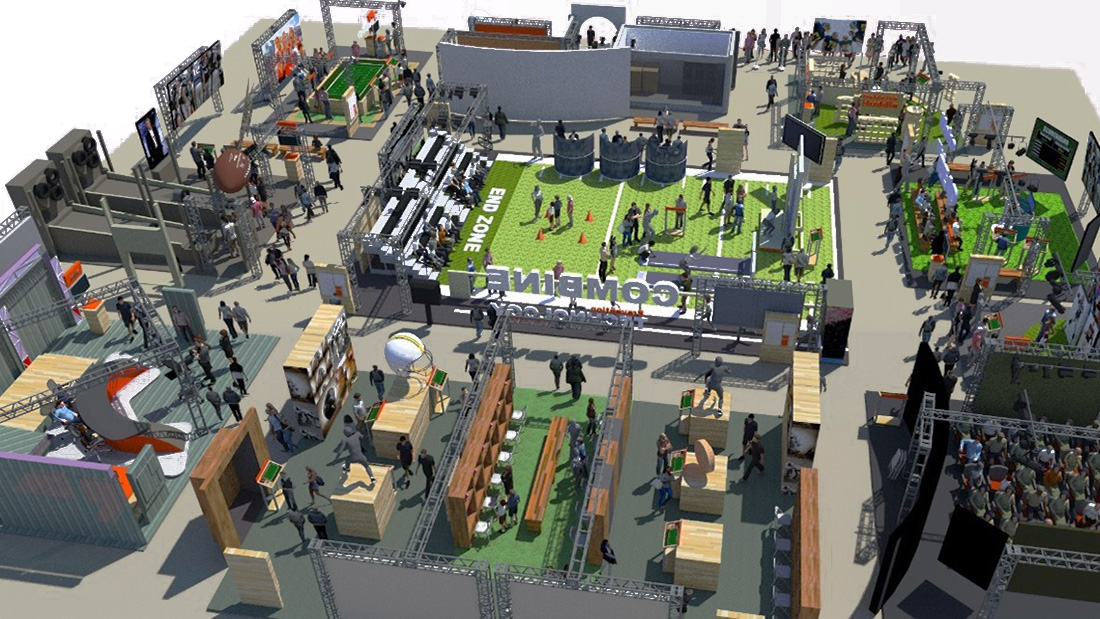 Conceptual Design for Travelling Exhibit
aec   Performance Exhibits, LLC  |  Conceptual design for travelling exhibit, about American football.   The "big idea" for this exhibit focuses on the sport's role in American culture and history, its traditions, youth participation, and the sports technology involved in making the sport safer for players.
The design includes 10 freestanding immersive modules gathered around a central gathering area.   An augmented reality overlay was integrated with the experiential design, to allow exhibit guests to customize their exhibit experience.   A popular licensed intellectual property (brand) was identified as a promotional tactic, and several national youth sports sanctioning organizations signed on as strategic partners.  The freestanding modules were intended for flexible arrangement, all or in part, allowing for different kinds of display environments.
The exhibit is intended for roll-out among U.S. museums and science centers.  The conceptual design for travelling exhibit is a first such product among a portfolio of planned travelling and pop-up exhibits for museums.
Illustration work shown here is a product of aec's Rapid Prototyping unit, combining feasibility results with preliminary project scaling, layout, and overall guest experiential design – created to assist Ownership group in confirming design intent and project budgets.