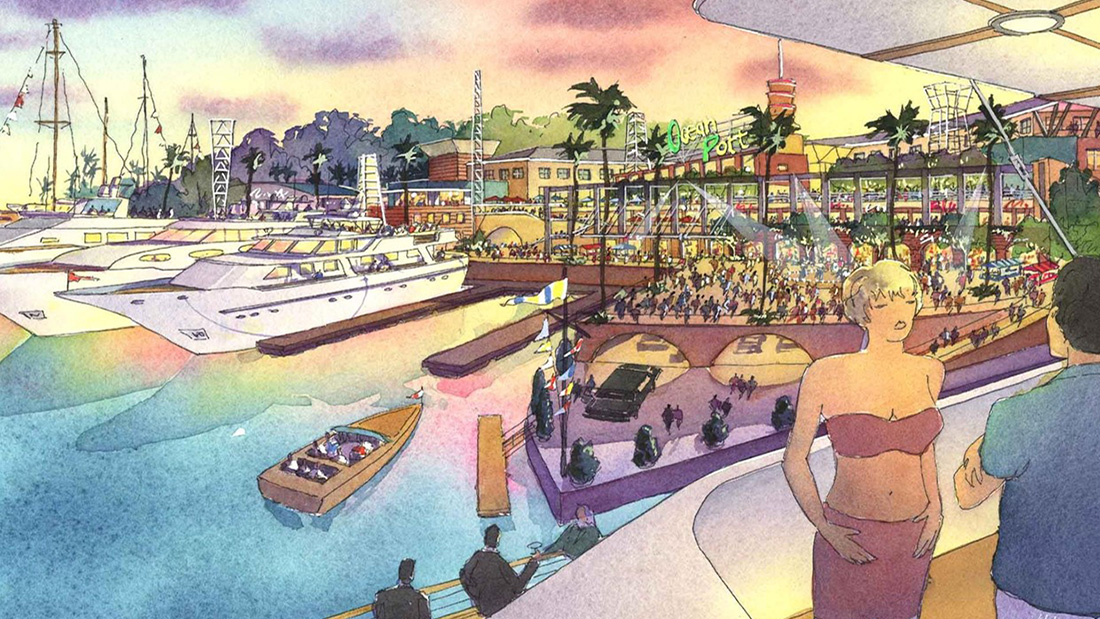 Ocean Port Superyacht Marina
Ocean Port Marina, LLC, a joint venture of Hattaway-Starr and Adventure Studios Enterprises  |  Conceptual design and project feasibility evaluation for super-yacht marina facility at Port Canaveral (Florida).  Project involved redevelopment (regeneration) of existing marina venue.
Pre-development entitlement, planning and design work in connection with proposed joint venture in Ocean Port Marina. Work included overall market support evaluation, financial projections and investment analysis, and first steps in entitlement process. Ocean Port was envisioned as a super yacht anchorage and water- front entertainment village.
The anchorage was designed to feature more than 70 slips sized for super yachts, making Ocean Port the largest such super yacht marina in the world. Ocean Port would include a waterfront entertainment village, a destination quality town center and recreation complex for visitors and the residents of surrounding communities of Cocoa Beach and Cape Canaveral.
Ocean Port would meet the worldwide demand for luxury yacht and larger super-yacht slips, which will soon far outpace in-place inventory. Ocean Port will exist within Port Canaveral, the busiest cruise port in the Western Hemisphere. Port Canaveral has emerged since its dedication in 1953 as a major deepwater port of entry with first-class berthing facilities, a thriving marine commercial park and foreign trade zone, and successful cruise and cargo industries. It is also the world's first quadra-modal hub, interchanging freight among sea, land, air and space transportation modes.
Ocean Port is one of the few places worldwide, where new super-yacht slips can be constructed economically, and without the requirement for new permitting. Port Canaveral, where Ocean Port is situated, is a deepwater port that provides the channel depths required by super-yachts. This is a very unique factor in Ocean Port?s favor, as very few ports and small-craft harbors serving the world?s yachting community offer significant channel depths. As significant, Ocean Port offers slip-to-Ocean travel time of ten (10) minutes, along a direct route through Port Canaveral. This direct Ocean access is a highly unique attribute of the project. Ocean Port is also exceptionally well located, given regional recreational waterway activities, and domestic and international visitation to the greater Orlando area.
Located within Port Canaveral, Ocean Port is situated convenient to the 1,200 mile Atlantic Intra-coastal Waterway. As well, from dockside to airport runway, Ocean Port is situated just 30 minutes from Orlando International Airport. As is well-known, the greater Orlando metropolitan area is one of the world?s largest leisure and entertainment destinations, rivaled only by Las Vegas.
The site for development of Ocean Port is situated in an area of major marina recreational activities. Across from Ocean Port, major cruise line terminals for cruise ships including Disney Cruise Line and Fantasy Cruise Lines occupy the marina. Along the barge canal, shrimp fishing boats, sport fishing boats, and numerous boat owners keep their boats in slips or in dry dock through out the area. State Route 528, which passes east-west just south of Ocean Port, provides direct access from the site to Orlando.