— StoneCreek Partners' Location-Based Entertainment Timeline & History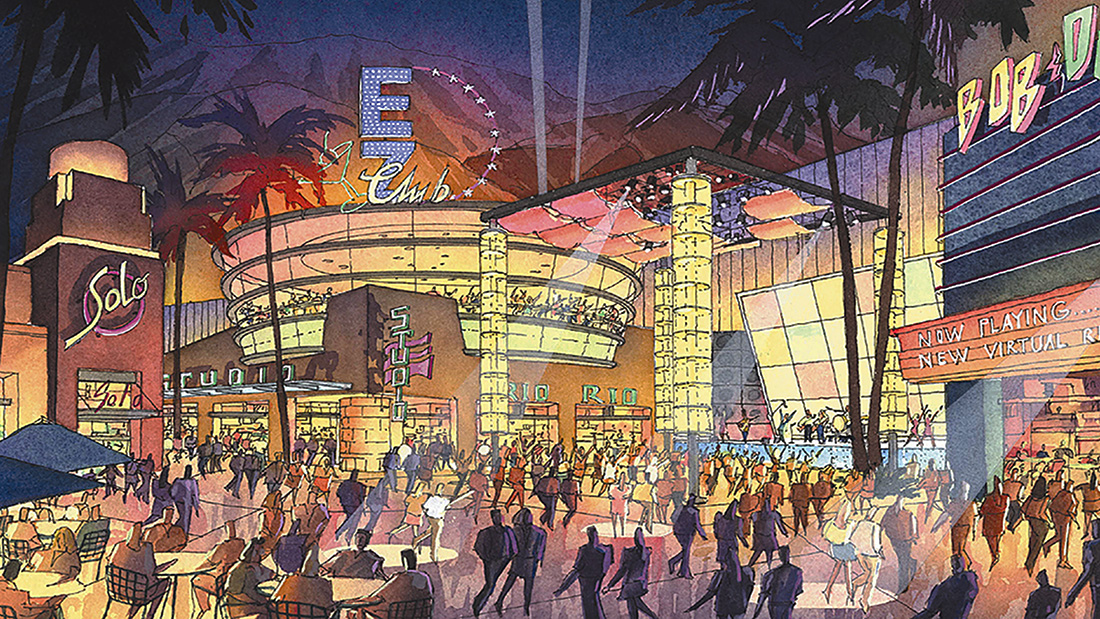 StoneCreek Partners and its creative affiliate Adventure Entertainment (AEC) have created a first history and timeline for location-based entertainment (LBE).   The history focuses on the innovations and technologies that have propelled the LBE Industry since its inception.  From movie theaters to drive-through restaurants, to virtual reality and other living stories, to the coming revolution in outdoor recreation.  The leisure-time options for consumers in today's out-of-home marketplace, are more varied than ever before.
The StoneCreek AEC team became interested in tracking location-based entertainment history as the various strands of the LBE Industry seem likely to intertwine more fully in the coming decade.   As well, other related trends and convergences are having their impact, as the retail mall industry, themed entertainment (and attractions), and online shopping, are completing their convergence into an integrated "retail-entertainment industry".
A summary of the timeline is included here.   StoneCreek and AEC intend to provide ongoing updates as research continues, at this link:
Facility / Experience
Product Summary
First Unit Year
2020
2010
2000
1990
1980
1970
1960
Adventure Landing
First park opens in Jacksonville Beach (Florida), in 1995, a project of the Adventure Entertainment Company.
1995
Adventureland
An indoor 70,000 SF family entertainment center located in the Sahara Centre shopping mall in Sharjah (UAE).
2002
All-American SportPark
Las Vegas, Nevada
A themed FEC concept involving Andre Agassi
1998
AMC Theatres
Maurice, Edward, and Barney Dubinsky purchase the Regent Theatre in downtown Kansas City. After changing the family name to Durwood this first unit and those to follow would operate as Durwood Theatres. Eventually in 1968 the operating name changed again to American Royal Cinema and then to American Multi-Cinema, Inc. (AMC). In 2012, Wanda Group (PRC) acquired a majority stake in AMC for $2.6 billion.
1920
America Live!
Harborage, Minneapolis. A 60,000 square foot multi entertainment complex featuring 5 different nightclub concepts under one roof.
1992
America's Incredible Pizza Co.

The first restaurant opened in Springfield (Missouri) in 2002.
2002
American Bandstand Grill
First Unit
1992
Apple Cafe
Explored but not greenlit by Apple, a retro-future diner with neon lighting and computers at every table.
1997
Apple Store
Apple's first retail store opens in Tysons Corner, Virginia, to a generally accepted consensus the stores would fail based on egregiously flawed thinking.
2001
Arabian Nights
Dinner theater located in Kissimmee, Florida; closed for good in 2013.
1988
Area 15
a joint project between Fisher Brothers and Beneville Studios.
2020
B.B. King's Blue Club
First unit opens in Memphis. A CityWalk Hollywood unit would open later in 1994. A third unit opened in Times Square (New York) in 2000 and shuttered in 2008. Additional locations opened and closed.
1991
Bass Pro Shops Outdoor World
First Unit opens in Springfield, Missouri, a simplistic version of the well-known modern superstores.
1971
BattleTech Center
The first BattleTech Center opened in Chicago in 1990, with others to follow eventually tallying 26 such facilities.
1990
Belong Gaming Arenas
These gaming arenas by esports platform Vindex, are coming to U.S. malls. First unit for the U.S. planned in 2021, for Pearland Town Center near Houston.
2016
Billboard Live!
9039 Sunset Boulevard, Hollywood.
1996
Blockbuster's BlockParty
Blockbuster, a unit of Viacom, opens its first unit in Albuquerque, Indianapolis to follow in the next year. BlockParty is an indoor entertainment complex with high-tech games for adults.
1994
Boston Market
1985
Bowling's Automated Pinsetter
The automated pinsetter for bowling is first unveiled at a warehouse across the street from the 1946 American Bowling Congress tournament in Buffalo (New York). The invention spurs a decade of bowling technology innovations, mostly by manufacturer AMF.
1946
Bubba Gump Shrimp Co.
A venture between Paramount Licensing and Rusty Pelican. First unit in Monterey Bay, California.
1996
Bubba Gump Shrimp Company Restaurant and Market
Opens its first restaurant on Cannery Row in Monterey (California).
1996
Cafe@Play
A venture of IMAX and Simon Property Group.
1998
California Pizza Kitchen
1985
Cartoon Saloon
Ft. Lauderdale. Adam West, Lou Ferrigno. The menu at Cartoon Saloon was an actual comic book.
1996
Casa Bonita
Lakewood, Colorado
1974
Castle Park Riverside
A 25-acre amusement park and family entertainment center located in Riverside (California). Formerly operated as Castle Amusement Park. Now owned and operated by Palace Entertainment.
1976
Champps American Sports Bar
West 7th Street, St. Paul, Minnesota
1980
Cheesecake Factory, The
David Overton opens the first unit in Beverly Hills. The company was first established in 1972 as a producer and distributor of cheesecakes and baked desserts.
1978
Chicken Dinner Restaurant
Knott's Berry Farm
1946
Chuck E. Cheese
First unit opens in San Jose, California, called Chuck E. Cheese's Pizza Time Theatre. Concept was created by Nolan Bushnell, who also co-founded Atari.
1977
Circus of Pepin and Breschard
First modern circus founded in the U.S., John Bill Ricketts.
1793
Cirque du Soleil
The first production, Le Grand Tour debuts in the small Quebec town of Gaspé, and is then performed in 10 other cities throughout the province.
1984
Claim Jumpers
1977
Classic Sports Network Restaurant
Classic Sports Network
1998
Club Disney
Disney opens five Club Disney units quickly, later deciding that all units would be shuttered by November, 1999.
1997
Club Kokomo
From The Beach Boys' leader singer Michael Love, a restaurant concept featuring "Beach Boys" culture. Did not happen.
Colonial Williamsburg
During the summer of 1978, the first living history scene is performed at Colonial Williamsburg. This 300-acre "living history" museum is situated as part of the historic district of the city of Williamsburg, Virginia, A place of some controversy ... during the restoration and reconstruction to establish the district some 720 buildings that postdated 1790 were destroyed - many of which with historic and cultural value dated to the early 19th century. As recently as the 1950's, Black Americans were only allowed to visit the district one day each week.
1978
Country Star American Music Grill
University CityWalk Hollywood
1994
Crunch
New York
1989
CyberDOME
265 W. 54th Street, in the former home of Studio 54.
1997
Cyclone
Still operating at Coney Island, the famed wooden roller coaster opens. Cyclone is capable of speeds of 60 mph and features an 85-FT drop.
1927
Dan Marino's American Sports Bar & Grill
Coconut Grove
1992
Dave & Busters
First unit opens in Dallas. The brainchild of David Corriveau and James "Buster" Corley, who famously removed the demising wall that divided their two separate, already operating entertainment venues.
1982
David Copperfield's Magic Underground
Broadway & 49th Street, in Times Square (New York).
1997
Dean & DeLuca's
121 Prince Street, New York
1977
Dick Clark's American Bandstand Grille
Overland Park, Kansas
1994
Dick's Last Resort
Rowdy roadhouse restaurant featuring insulting server staff. First Unit opened in the West End in Dallas. Now owned by Deja Vu.
1985
Disc Golf
The first formal disc golf course opens at Oak Grove Park in Pasadena (California).
1975
Discovery Channel Destination
MCI Center, Washington DC
1997
Discovery Naturescape
South Korea
An indoor nature park, with immersive experiences for glaciers, deserts, canyons, and the like.
2022
Discovery Zone Play Place
First unit opened in Kansas City (Missouri). Famed tennis professional, Billie Jean King, was an early investor.
1989
Disney Store, The
Glendale Galleria Mall, Glendale, California
1987
Disney's America
Conceptual plans for this new Disney theme park are prepared. Disney's America was a planned theme park to be built near Haymarket, Virginia (Prince William County), It was in active planning at Walt Disney Co. during the 1990's. The 3,000-acre Disney theme park (with ancillary hotels, retail, and the like) if developed would have been located within a short distance from the historic battlefield, Bull Run in Manassas. Disney organization and other advocates encountered fierce skepticism from many members of the public concerns about Disney acting as an interpreter of American history.
1993
Disneyland
Walt Disney delivers a theme park.
1955
DisneyQuest
A Disney Regional Entertainment business unit, designed as a way for guests to experience the Disney Parks without having to be at the actual theme park destination. First unit located in Disney Downtown entertainment district (now Disney Springs). A second unit opened a year later in Chicago.
1998
Dive!
10250 Little Santa Monica Boulevard, Los Angeles
1994
Downtown Disney Anaheim

Disney's version of Universal Studio's CityWalk, with much the same role in on-site guest circulation and entertainment.
Disney's version of Universal Studio's CityWalk, with much the same role in on-site guest circulation and entertainment.
2001
Dreamscape Immersive
Founded in 2016, Dreamscape is helmed by a veteran entertainment industry team and features a brace of Blue Chip investors.
2018
Drink!
S. DeGraff, M.Morton, 541 W. Fulton Street, Chicago
1992
Ducks Tours at the Dells
Mel Flath brings WWII land-to-water vehicles known as Ducks to Wisconsin Dells and set up a tour company.
1946
Easyriders Cafe Restaurants
1997
Ed Debevic's
Retro dinner concept, with quirky if not mean servers.
1984
El Capitan Theatre (Disney
6838 Hollywood Boulevard
1991
Electric Park
One of the inspirations for Walt Disney's ideas for Disneyland. The second version of this amusement park opens in Kansas City, Missouri. Situated about 15 blocks north of the Disney home on East 31st Street. Electric Park featured fireworks each evening and had a train system that encircled the venue.
1907
Elvis Presley's Memphis
Beale Street, site of former Lansky's Men's Store.
1997
Emeril's
Emeril Lagasse. New Orleans, Orlando.
1998
Entros
A remarkably innovative supper club participatory entertainment concept, sputtered following St. Joe Company's investment.
1992
ESPN Zone
The first ESPN Zone opens at the Power Plant at Baltimore's Inner Harbor.
1998
Evermore Park
www.evermore.com
Immersive story venue, now with customized story model.
2018
Exploratorium
A San Francisco institution, was founded by physicist and educator Frank Oppenheimer and opened in 1969 at the Palace of Fine Arts. Since relocated.
1969
Facebook launches
Facebook launches on February 4, as a social networking service dubbed, TheFacebook.
2004
Fashion Café
This themed restaurant chain was defunct by 1999. Involved supermodels' Naomi Campbell, Elle Macpherson, Claudia Schiffer, and Christy Turlington.
1995
Fashion Show Mall Expansion
Retail mall expansion including largest house show production system ever placed in a mall environment.
2003
Federal Express
This game changing overnight delivery company starts operation on April 17, based on a college term paper written by Federal Express founder Frederick Smith.
1973
Ferris Wheel
G.W.G. Ferris designs and installs his giant wheel at the World's Columbian Exposition held in Chicago in 1893. Ferris developed the idea upon a challenge to Chicago area architects and engineers, by eminent architect Daniel Burnham. Burnham needed a big idea to rival the Eiffel Tower for the World's Fair being organized for Chicago.
1893
Flavian Amphitheater
Flavian's Amphitheater opens in A.D. 80, later to become known as the Colosseum. A project of Vespasian's son Titus. Mentioned here but its cruel sensibilities leave it off the Official LBE Timeline.

80
Ford Model T Automobile
The Ford Model T automobile begins assembly-line production, setting the stage for the Great Experiential Loss (Norm Elder) of the American suburb.

1908
Front Row Sports Grill
TGI Fridays, Orlando, Florida
1993
Fulton's Crab House
At WDW's Pleasure Island, Lake Buena Vista (Florida).
1996
Fun City
1999
Galyan's
Galyan's opens in 1946 as a grocery store and in the 1960's transitions to sporting goods. The sports retailer is purchased in 2004 by Dick's Sporting Goods.
1946
GameWorks
1996
Gateway Country Stores
The stores feature a combination of old and new, inviting customers to come in, touch, order — and then go home and wait patiently, because the stores did not carry any inventory. The stores would operate until 2004.
1996
Happylon
Opened at the Filion Mall in Moscow,
2010
Hard Rock Café
First unit at Old Park Lane, Mayfair, in London.
1971
Harley Davidson Café
First Unit
1993
Highway 76 Branson
The Presley family opens the first music theater on what is now known as Highway 76, followed by more than 50 such theaters along this highway.
1967
Hippodrome Theatre
The New York City theater had a seating capacity of 5,200, with a stage 12 times larger than any Broadway "legit" house and capable of holding as many as 1,000 performers at a time, or a full-sized circus with elephants and horses. An 8,000-gallon clear glass water tank could be hydraulically raised for performances. Operated until closing in 1939.
1905
Hooters
First Unit opened in Clearwater, Florida.
1983
House of Blues
First Unit. Dan Ackroyd, Jim Belushi, J. Goodman. Cambridge, West Hollywood, Orlando.
1993
IBM PC
International Business Machines (IBM) introduces its first (commercially viable) personal microcomputer (model #5150) in August of 1981. Earlier that year (April 1981) Osborne Computer Corporation begins shipping its first personal microcomputer, the Osborne 1. The IBM Model 5150 allows for use of three operating systems, including a first use of an operating system provided by Microsoft (PC-DOS, later MS-DOS).
1981
Icebar by Icehotel Jukkasjärvi
Original ice bar opens in Jukkasjärvi (Sweden)
1994
IMAX Theaters
The first IMAX theater system is set up at Ontario Place (Toronto).
1971
Immersive Van Gogh
A traveling exhibit. Debuted at the digital art center L'Atelier des Lumières, in Paris. Featured in the Netflix show, "Emily in Paris."
2019
In-N-Out Burger Drive-Through
The fast food food chain opens a novel drive-through only restaurant, in a 100 SF building with five cooks making take-out meals behind glass walls and fulfilling the order through the drive-up window. No seating and no outside parking lot, ordering by customers through a two-way intercom. In the same year, McDonald's is serving customers through walk-up windows.



1948
Intel® 4004
Intel® releases the first commercially-produced microprocessor.
1971
Intergalactic Spacewar Olympics
The Laboratory for Artificial Intelligence at Stanford University organizes the world's first eSports tournament, the Intergalactic Spacewar Olympics. Players compete in the space combat game called Spacewar, first developed in 1962.
1972
Iwerks Cinetropolis
Created by Donald W. Iwerks, the Disney technical guru and founder of Iwerks Entertainment Inc. The venue eventually closed in 2003.
1993
Jekyll & Hyde
Eerie Entertainment
1994
Jillian's
Jillian's Billiard Club opens near Fenway Park in Boston.
1985
Jimmy Buffett's Margaritaville
1987
John's Incredible Pizza Co.
First unit opened in Victorville, California in a 16,000 SF location.
1997
Kidmazeum
Marlboro, New Jersey
1993
KidZania
First unit opens in Santa Fe, Mexico (a suburb of Mexico City), a concept created by Xavier López Ancona. Initially known as La Ciudad de los Niños.
1999
Kinepolis Brussels
The first megaplex in the world opens in Brussels, Belgium with 25 screens and a seating capacity of 7,500.
1988
Knickerbocker Alleys
The first indoor bowling alley in the U.S., opens in New York City. Instead of wood, this indoor alley used clay for the bowling lane.
1840
La Méthode Naturelle
In English, "The Natural Method," first published this years as L'éducation physique ou l'entrainement complet par la méthode naturelle. In this work, French naval officer Georges Hébert describes a physical education method using the outdoor environment. The methods are the foundation for today's "ropes courses" and ropes-based team building. Hébert's motto was "Be strong to be helpful"). His concepts of physical training combined with character and capacity training were influential to many programs to follow including Outward Bound. Hébert will evolve this initial work many times over his lifetime.
1912
Legoland Billund
The first Legoland park opens, in Denmark.
1968
Legoland Discovery Center
indoor family attraction chain operated by British leisure group Merlin Entertainments.
2007
Limbo Lounge
Wet Seal/Contempo Casual. First uni in Burbank, California.
1996
Loulou Al Dugong's
Opens in Dubai in a 25,000 SF space.
2000
Lucky Strike Lanes
Lucky Strike Entertainment, LLC introduces this upscale, modern take on the bowling alley. Self-described as "the founding father of boutique bowling." In 2019, Lucky Strike was acquired by Wellspring Capital Management LLC (New York).
2003
Luna Park
The first of many amusement facilities to bear this name, opens at Coney Island in Brooklyn (New York City). It was the second of the three original iconic amusement parks built at Coney Island, the other two being Steeplechase Park (1897) and Dreamland (1904). The park operated until 1944 when it was destroyed by first an not reopened.
1903
Macy's Department Store
14th Street, Lower Manhattan
1858
Madame Tussauds
London
1835
Madurodam
Located in The Hague, Netherlands, the amusement park opens only a few years before Disneyland with a collection of miniatures of famous Dutch castles and other quaint buildings.
1952
Magic Planet
First unit opened at City Centre Deira, in Dubai. A concept of Majid Al Futtaim Group.
1995
Mai-Kai Polynesian restaurant
Created by brothers Bob and Jack Thornton. Fort Lauderdale, a 40-year landmark offering Oriental food and strong rum drinks, also feature nightly performances by a Polynesian dance troupe. the last restaurant/bar in existence carrying on the traditions of service and serving the original drink recipes of Don the Beachcomber, and has been listed on the National Register of Historic Places.
1956
Mall of America
Mall of America opens, on the site of the former Metropolitan Stadium (home field for the Minnesota Twins and Minnesota Vikings). Located in Minneapolis (Minnesota). A project of Triple Five Group, following the success of West Edmonton Mall. A plaque in the mall's amusement park commemorates the former location of (baseball's) home plate and one seat was placed at the exact location it occupied in the former stadium, commemorating a 520-foot home run struck by Harmon Killebrew in June, 1967.
1992
Marché by Mövenpick
The first Marché unit opens on the Königstrasse in Stuttgart (Germany).
1983
Mark Strand Theatre
Arguably the first U.S. movie palace.
1914
Mars 2112
Located in NYC's Times Square District; closed in early 2012.
1998
McDonald's
1955
Medieval Times Dinner & Tournament
Dinner theater featuring jousting and medieval-themed menu. First unit in Orlando, Florida.
1983
Meow Wolf
An artist's collaborative first organized years before, combines to create this successful curiosity.
2016
Michael Jordan's
Chicago, Toronto. The Chicago location operated until 1999.
1993
Mickey Gilley's Texas Cafe
1996
Mickey Mantle's
The restaurant was located at 42 Central Park South in New York City. The restaurant shuttered in 2012.
1988
Mickey's Kitchen
Montclair, California, a second was added in Schaumburg (Illinois). Both were shuttered in summer 1992.
1990
Mimi's Cafe
Anaheim
1978
Miniature Golf
There are alternative claims about miniature golf's origin story. However, the first standardized "minigolf"courses to enter commercial mass-production started with the Thistle Dhu ("This'll Do") courses in Pinehurst (North Carolina). Some years later, there was the 1927 Tom Thumb patent of Garnet Carter from Lookout Mountain, Tennessee.
1916
Motorola Cellular
The first commercial automated cellular network (1G) analog is launched in Japan by Nippon Telegraph and Telephone. The first demonstration of such technology was just a few years earlier, in 1973, by Motorola's Martin Cooper and John Mitchel.
1979
Motorsports Grill
The 13,000 SF restaurant by New Directions Restaurants Inc. opens in Orlando, on a side street off Kirkman Road across from Universal Studios Florida.
1995
Motown Cafe
104 W. 57th Street, New York.
1995
Mount Thebarton
The first facility to create an artificial skiing slope made with real snow, opens in Adelaide, Australia, which happens to have a Mediterranean climate.
1987
Movie theater megaplex
AMC introduces first movie theater megaplex in North America, at the AMC Grand 24 in Dallas, Texas.
1995
Movie theater seat cup holders
AMC patents cup holder armrests.
1981
Movie theater stadium-style seating
The Princess Theatre in Honolulu introduces stadium style seating in a movie theater setting. Years later, AMC will re-introduce the seating style which with risers allows each patron an unobstructed view of the screen.
1922
Museum of Future Experiences (MoFE)
Brooklyn, New York
Unique immersive experiences that include VR technology.
2019
Mystere
Cirque du Soleil's first Las Vegas show, has its first performance. The show was also Cirque du Soleil's first permanent show.
1993
NASCAR Café
H&C Racing Inc. initially held the license from these restaurants, eventually selling the license to The Cordish Companies.
1996
Netflix launches
Netflix launches its website on April 14 with 925 works available for rent through a traditional pay-per-rental model.
1998
Netscape Navigator
Marc Andreessen's Mosaic introduces the first commercial browser for the "worldwide web." There are precursors and others at or about this time, but Netscape's product was easy to use and commercially viable.
1994
New York State Fair
In the U.S., the nation's first state fair is held in Syracuse, New York.
1841
Nickelodeon Pittsburgh
The first common format for movie theaters, in storefronts throughout the U.S.
1905
Niketown
Downtown Portland, Oregon
1990
Nomadic VR
First venue opens at Pointe Orlando, featuring "Arizona Sunshine," a zombie VR shooter game.
2018
Nordstrom
1963
Oculus Rift
Prototype of this groundbreaking headset, emerges.
2010
Official All-Star Sports Cafe
First unit located at Times Square in New York City. Investors included Wayne Gretzky, Joe Montana, Shaquille O'Neal, Ken Griffey, Jr., Andre Agassi, and Monica Seles.
1995
Old Course at St Andrews
The 18-hole "round of golf" opens for play at St. Andrews.
1764
Old Tucson Studios
Robert Shelton leases sets and locations from Pima County, first used in the film Arizona (1940), and the grounds and sets as a working film studio and theme park.
1960
Old Tucson Studios - Fire
Devastating fire at this venerable studio leaves the studio a modest vestige of its formal glory. The studio's name is eventually changed to simply "Old Tucson," recognizing the loss of its legitimate film studio facilities.
1995
Out-Take
Universal City, Irvine
1993
Pageant of the Masters
The unique live performers features "living stills" - recreations of classical and contemporary artwork.
1933
Paintball Gun
The first commonly used Paintball gun, the Nelspot 007, invented by James C Hale receives a patent. The gun is intended for use in the forestry industry. Earlier in the 1960's, Charles and Evan Nelson had invented a paint-marking pellet that could be discharged from a firearm, intended for foresters marking trees.
1974
Parkway Theatres
The first multiplex theater (cinema) opens in the U.S., a twin multiplex locate at the Ward Parkway Shopping Center in Kansas City (Missouri). Created by Stanley H. Durwood for his Parkway Theatres.


1963
Pat O'Brien's Bar
New Orleans, Cancun, Orlando, 718 St. Peter Street next door to Preservation Hall.
1933
Patented Drive-In Movie Theater
The first patented drive-in movie theater opens in New Jersey, introduced by Richard Hollingshead. There were precursors to this patented version dating back to the 1910's.
1933
Pete Rose's Ballpark Café
Located in Boca Raton, at the Holiday Inn at Glades Road and Florida`s Turnpike. The restaurant shuttered in 2000.
1992
Planet Hollywood
First Unit. Schwarzenneger, Stallone, Willis.
1991
PlatformaVR
Opens first virtual reality venue in Moscow (Russia).
2017
Pokémon Go
Niantic releases this mobile augmented reality game, which allows uses to locate, capture, battle, and train virtual creatures called Pokémon. The GPS based A/R allows the Pokémon to exist in the user's real world location.
2016
Polo / Ralph Lauren Store
Rodeo Drive
1971
Popstroke
Jupiter, Florida
www.popstroke.com
Described as a "modernized" miniature golf family entertainment center. A concept of Tiger Woods with business partner, Greg Bartoli. First units at Port St. Lucie and Fort Myers, in Florida
2022
Public Zoo
First public zoo opens in France on the grounds of the former Jardin du Roi (Paris).
1793
Puttshack
In April 2021, Puttshack opens its first U.S. location, at The Interlock in Atlanta.

2021
Puy du Fou
Living history venue in France featuring spectacular live reenactments (shows), piqued with special effects.
1978
Puy du Fou Asia
Qinhuangdao
A Puy du Fou (France) branded venue. Unlike the rural Puy du Fou which accompany their visitors on a 2- or 3-day journey through time, SAGA promises a 2-hour total escape, more suited to the pace of city life.
2022e
Puy du Fou España
A Puy du Fou (France) branded venue.
2019
Puzzle Place Play Centers
From the producers of "Puzzle Place." Mundelein, Illinois
1997
Quisisana (Automat)
World's first automat, opens in Berlin, Germany. An automat is a fast food restaurant where simple foods and drinks are served by vending machines. The first U.S. automat was opened seven years later by Horn & Hardart in June, 1902, at 818 Chestnut St. in Philadelphia, Horn & Hardart became the most prominent U.S. automat operator.
1895
Race Rock
Richard Petty, Michael Andretti. Orlando. Known for its the Brute Force Burger (named for drag racer John Force). The race-themed eatery operated until 2007. Among the decor was the Superflow Chevy Monte Carlo driven by Tom Cruise (as Cole Trickle) in the film "Days of Thunder."
1996
Rainforest Café
First unit opens at Mall of America, in Minneapolis
1994
Red's Rec Room
Located at West Edmonton Mall, the 108,000 SF LBE concept was similar in design intent to Dave & Buster's which was introduced in 1982. However, Red's operated with an active concerts schedule and a microbrewery - truly unique. A project of Brunswick Corporation. Red's Rec Room closed in 2006.
1996
Regal's Funscape
1994
Robot Restaurant
A 90-minute fantastical (wacky perhaps) performance venue with some food items. Located in Tokyo's Shinjuku nightlife district.
2012
Rock N Roll McDonald's
This flagship unit by McDonald's opens at 600 N. Clark Street in the River North neighborhood of Chicago. When the location had its Rock N Roll theme, the displayed memorabilia focused mainly on Elvis Presley in an exhibit in a separate structure on the same lot.
1983
Rolling Stones store
9 Carnaby Street, London, U.K.
The store will offer merchandise and fashion items by the Stones' new brand, dubbed RS No.9 Carnaby. The retail venture is in partnership with Universal Music Group's Bravado, a merchandise and brand management company.
2020
Ryman Auditorium
The Grand Ole Opry radio show moves into the Ryman.
1943
SafeHouse
Spy-themed restaurant opens in Milwaukee,created by founder David J. Baldwin. Purchased by Marcus Corporation in 2015.
1966
Sci-Fi Megaplex
The science fiction themed themed restaurant, at the site acquired in Fort Lauderdale. The company filed for bankruptcy in 2001. Included on this list given the theming.
Sears Department Store
1925
Sears, Roebuck & Co. Catalog
The whole story began with Richard Sears selling selling gold watches by mail order.
1887
Sega Gameworks
First unit opens in Seattle.
1997
Sega Joypolis
1994
Sega Virtualand at the Luxor
Las Vegas
1993
SegaWorld London
The 6 floor indoor arcade opened at The Trocadero in London.
1996
Sesame Street General Store
First unit in Torrance, California, at Del Amo Mall.
1990
Six Flags Theme Parks
Founder Augus Wynne opens Six Flags Over Texas, his first park.
1961
Skansen
The first "living history" museum is established on the island Djurgården in Stockholm, Sweden, a model for living history museums and performances to follow. Skansen is created by Artur Hazelius to show the way of life in the different parts of Sweden before the industrial era.
1891
Sleep No More
New York
The production is a creation of British theatre company, Punchdrunk. Reminiscent of but not derivative of the show, Tamara, a theatrical living story without stage or audience seats.
2011
Sony Metreon
Sony's famed San Francisco LBE entrant, featuring I/P of author Maurice Sendak.
1999
Sony Style
Sony's first retail concept opens in Canada. Sony also has two flagship stores in urban centers in New York (established 2004) and at Metreon in San Francisco (opened 1999) among other locations.
1982
Sour Patch Kids shop
New York City
The candy maker's first physical stores opens at 665 Broadway in Manhattan on August 6.
2020
Southdale Center
Southdale Center shopping mall opens in Edina, Minnesota, a suburb of Minneapolis-St. Paul. It is the first climate-controlled shopping mall in the U.S.
1956
Speedo Authentic Fitness
1992
Star Trek Experience
Themed attraction opens at the Las Vegas Hilton. The licensed attraction shuttered on September 26, 2004 due to low attendance.
1998
Star Wars: Galactic Starcruiser
Immersive overnight accommodation, living in Stars Wars.
2022
Starbuck's
1971
Survios VR
First Survios V/R arcade opens at Del Amo Mall (Torrance, California).
2018
Switchback Railway
America's first roller coaster opens at Coney Island in Brooklyn, New York.
1884
Tamara
John Krizanc creates the play "Tamara," based on the meeting between Gabriele d'Annunzio and portrait painter Tamara Lempicka.
1981
Television City
Rockefeller Center, New York
1997
Tempus Expeditions
M. Simon / T. Mann, First Unit at Mall of America
1994
The Charleston Museum
The Charleston Museum opens in Charleston, South Carolina. Years later, it will open to the general public in 1824. The museum claims to be have been the first museum established in the U.S.
1773
The Colosseum
Located in Regent's Park, London.
1829
The Hub 30A
24 Hub Lane, Watersound Beach, Florida
The Hub is an entertainment district and gathering place with restaurants, shopping and events. The restaurants and bars are situated around a lawn and patio area with comfortable seating, a stone fireplace and a large event stage boasting a 25 FT LED Jumbotron for sports and movies. A Woodford Capital project.
2015
The Loop-the-Loop
The first amusement ride to use an "elliptical loop" opens at Coney Island. The ride was so interesting to view that an observation deck was built specially to observe riders.
1901
The Mirage
Steve Wynn opens his first casino on The Strip in Las Vegas, with The Mirage featuring a lava-spewing volcano. The streetfront entertainment launches a era of themed entertainment in gaming, and the first of Las Vegas' modern mega-resorts
1989
The NFL Experience Times Square
20 Times Square, 7th Avenue in New York City. The 40,000 SF, $40 million venue was described as a joint venture between the league and Cirque du Soleil Entertainment Group. The venue was shuttered on September 30, 2018, less than a year after its grand opening. The foray is among the shortest runs on its capital spend, in LBE history.
2017
The Ridotto
The Ridotto is established in Venice (Italy) by the Great Council of Venice to provide controlled gambling during the carnival season. The facility is the first known gambling house in Europe, although not called a casino it operated as such.
1638
The Shepherd of the Hills
First outdoor production opens, based on the novel of the same name (published 1907).
1960
The Shops of Saddle Creek
This lifestyle retail center opens in Germantown, Tennessee.
The term "lifestyle center" is generally considered to have been first used with regard to this project although retail destinations with lifestyle-center attributes pre-date Saddle Creek.
1987
The Sword of Damocles
The first head-mounted VR display is invented by Ivan Sutherland.
1968
The Void
Creditor takes over The Void's assets. June 2020 - The Void receives a Notice of Event Default and Lease Termination from the Walt Disney World Operating Participants Department.
2020
The Void
First unit opens in Pleasant Grove, Utah.
2016
The Zone at Glendale Galleria
Mall lifestyle shopping district for tweens and teens.
2000
Theater Stereophonic Sound
First upgraded sound in U.S. theaters.
1953
Tinsletown Studios
A themed show concept from Jim Garber and Jack Lindquist.
1998
Tivoli Gardens
Copenhagen, Denmark
1843
Topgolf
The first Topgolf venue opens in Watford in the U.K., in 2000, featuring RFID technology and dartboard-style targets. In September 2021, Topgolf opens its first unit in China, in Shanghai - company's indoor "The Lounge by Topgolf" concept.
2000
Tower Records
Sunset Boulevard, Hollywood
1971
Toys 'R' Us
Washington, DC
1957
Toys 'R' Us Flagship store
Toys "R" Us opens international flagship store in New York's Times Square at a cost of $35 million. The 110,000 SF store included various themed zones such as Barbie (with a life-size dreamhouse), Jurassic Park (with an animatronic T-Rex), Lego, Wonka, and a signature indoor Ferris wheel. Operated through year-end 2015. The flagship store was also an electronic gaming destination - partnering with Microsoft as launch location for the original Xbox console in 2001.
2001
Two Bit Circus
634 Mateo Street, Los Angeles
Hybrid out-of-home arcade with featured virtual reality experiences, presented by Brent Bushnell. First unit located in downtown Los Angeles. A second unit is planned to open in the fall of 2022, at the Shops at Park Lane in Dallas.
2018
Tyffonium
First unit opens in Japan, at Divercity Tokyo.
2017
United Artists' Starport
First Unit at Circle Center Mall, Indianapolis.
1995
Universal Studios CityWalk
First imagined as an easy opportunity to catch studio tour and amphitheater visitors once more before reaching the parking lot, the studio earns a moment in LBE history with its first of several CityWalk facilities.
1993
Universal Studios Hollywood
Universal Studios opens its famed tram tour, following in the footsteps of Carl Laemmle's chicken ranch days.
1964
USA Cafe
In the Sundance Square district, Fort Worth (Texas).
1997
uWink
A Nolan Bushnell concept, first unit of 5,400 SF opened at Westfield Promenade, in Woodland Hills (California).
2006
Van Gogh: The Immersive Experience
A Fever production, organized by Exhibition Hub. 20,000 SF. The traveling exhibition is Exhibition Hub's first U.S. production. The group has already organized several other exhibits around the famous painters Claude Monet and Gustav Klimt.
2017
Vauxhall Pleasure Garden
Vauxhall opens, will eventually operate through the year, 1859. Initially named New Spring Garden.
1661
Vegas!
Creative Cafes, first uni in NewYork.
1998
Viacom Entertainment Store
First Unit opens in Chicago; no other units to follow. The store eventually closes in January, 1999.
1997
Victrola
Victor Talking Machine Company introduces the Victrola. The tabletop Victrola VV-XII is introduced a few years later in 1909, selling for $125.00. This first low-price compact Victrola is not successful, as the horn opening is too small to create sufficient listening volume.
1906
Virgin Megastores
Ultimately closed in 2009, followed by airport stores thereafter. Virgin's first formal store opened on London's Oxford Street.
1971
Virtual World Entertainment
VWE billed itself as the "world's first digital theme park.
1994
VirtuaLand at the Luxor
An indoor Sega arcade.
1993
Virtuality Arcades
The first VR machine for arcades.
1991
Vitascope Hall
The first permanent home for showing movies in the U.S.
1896
Wanda Group
The Wanda Group is first established in Dalian, Liaoning, by Wang Jianlin. Among its diversified activities, the company will make a global run at themed attractions, film studio development, and cinema chain operations.
1988
Wannado City
An indoor children's role-playing amusement center, a property of Grupo CIE. Opened at Sawgrass Mills (Sunrise, FL).
2004
Warner Bros. Studio Store
Ultimately shuttered in 2001. First Unit at Beverly Center in Los Angeles.
1991
West Edmonton Mall
Located in Edmonton (Alberta), Canada. A project of the Ghermezian brothers who subsequently formed Triple Five Group. At one time the largest shopping mall in the world (until 2004), the mall introduced the concept of shopping plus location-based entertainment.
1981
Wildhorse Saloon
Owned by Ryman Hospitality Properties (formerly Gaylord Entertainment Co.)
1994
Wisconsin Dells
A roof is placed over the water park at the Polynesian Resort Hotel, making it the first hotel with an indoor water park at the Wisconsin Dells.
1994
Wolfgang Puck Cafe
Universal Studios CityWalk
1983
WonderCamp
27 W. 23rd Street, Flatiron District in New York.
1994
WonderWorks
Signature design creates appearance of an upside-down building. Company slogan is "Let Your Imagination Run Wild".
1989
World of Coca-Cola
Museum opens at Underground Atlanta, later moved in 2007 to a 45,000 SF space adjacent to Underground Atlanta.
1990
World Wide Web
Tim Berners-Lee invents the World Wide Web, eventually released to the general public In 1991.
1989
Yellowstone National Park
President Ulysses S. Grant signs legislation creating the first U.S. national park at Yellowstone. Yosemite and Sequoia will be similarly designated in 1890.
1872
YouTube
The first video is uploaded by co-founder Jawed Karim to the then free video sharing service, on April 23, 2005 ("Me at the zoo).
2005
Zero Latency VR
Tech company that develops free-roam virtual reality systems, opens first venue in North Melbourne, Australia.
2015
Punch Bowl Social
2012
From the Research unit, SCP Adventure Entertainment Cos. LLC