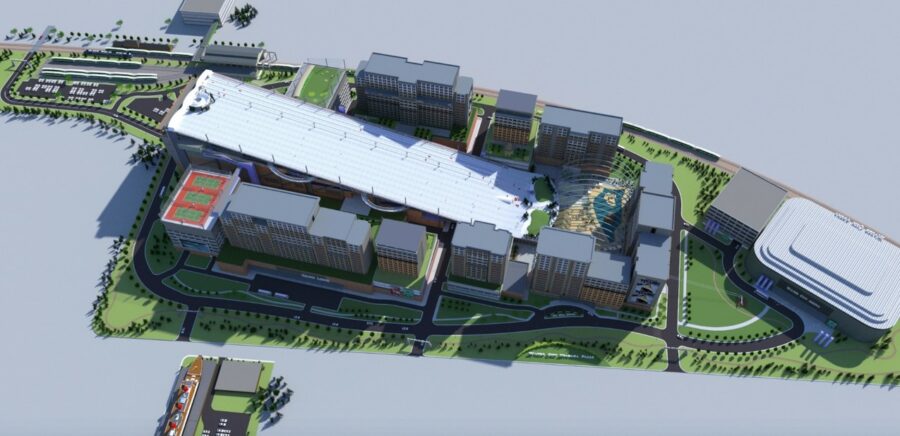 The Artificial Ski and Snow Era Begins, as New Venues Open in the U.S.
Elsewhere in the world, the artificial ski and snow era began in the 1990's.
The artificial ski and snow era begins in the U.S., as man-made facilities begin to open.   These facilities featuring artificial snow and ice have become common throughout Europe, China, and other regions of the world.
The opening of Big Snow at American Dream Mall in East Rutherford (New Jersey) may be venue that marks the beginning of this new era in the U.S.   American Dream Mall is a development of Triple Five Worldwide, the developer of mega-malls such as West Edmonton and Mall of America.   Triple Five also has a next mega-mall in planning, the American Dream Mall in Miami, Florida.  Although such places as Liberty Mountain Snowflex Centre (opened 2009) at Liberty University, Pigeon Forge Snow (opened 2018), SnoBahn Colorado (2018), and Buck Hill in Burnsville, Minnesota (2016), each opened well before Big Snow, the U.S. retail and outdoor recreation industry may have needed to see Triple Five's more large-scale examples in operation.
Outside the U.S., artificial ski and snow facilities are common throughout Europe, the UAE, Egypt, Turkey, Russia, India, Japan, and in particular, China.  Between 2010 and 2019, at least 42 of these man-made projects have been completed.   The European "artificial" era got its start in the 1990's with such facilities as Vuokatti Ski Tunnel (Finland), Montana Snowcenter Westerhoven (The Netherlands), and Noeux Les Mines (Pas de Calais, France).
For real estate, retail mall, and municipalities, these artificial ski and snow venues can take many forms, and can act as an effective anchor "gathering place."   Indoor and outdoor "all weather" operation are a possibility.   Recreation sports such as downhill and cross-country skiing are a popular format, but non-sport artificial environments can include all forms of immersive attractions and themed entertainment.