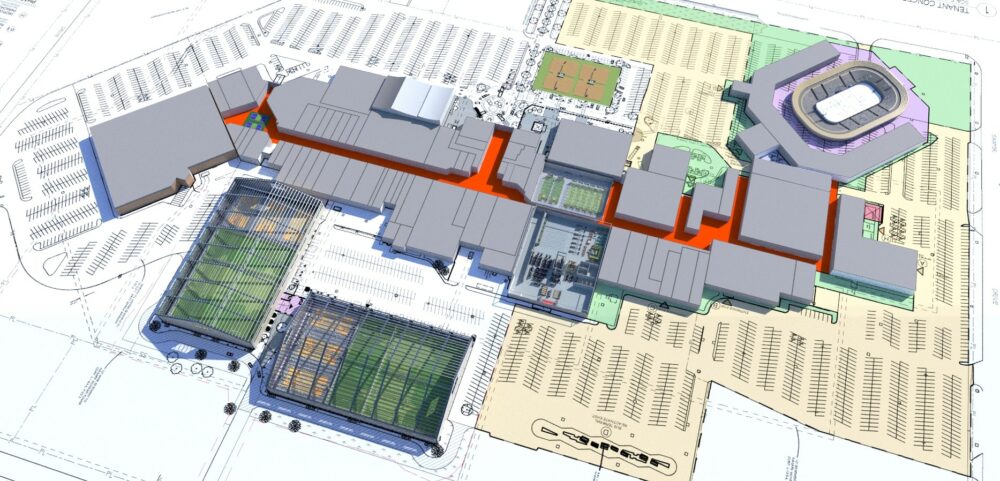 Mall Redevelopment for Entertainment
AEC was retained by this regional mall owner to explore the mall's redevelopment for entertainment use, in Niagara Falls (New York).  As the design consultant for the project, we considered all manner of repurposing options that could best utilize the existing physical configuration and infrastructure of the shopping center.
The starting point established by client Cocov Destinations, was to provide an all-weather "participatory sports" and recreation facility, serving league and sports club enthusiasts of all age groups.  One competitive advantage for the property was the substantial grounds at or about the former shopping center and the potential for using additional nearby land also owned by the developer.
Formerly operated as the Summit Mall, the newly-dubbed Niagara International Sports & Entertainment Center ("NISE Center") transforms a derelict 850,000-square foot shopping mall into a world-class sports facility.   More than 900,000 annual visitors are estimated to participate in or view the athletic functions currently committed in the facility's first years.  This estimate includes the athletes, coaches, friend s, families and other walk in event related (coaches, administrators etc.) traffic.  The attendance number is expected to increase as additional leagues and events are booked.
Confidential – At client request, the rapid-prototyping (previsualization) image for this exploration of mall redevelopment for entertainment use, includes limited details only.   Shown below, a view of the defunct mall prior to commencement of revitalization effort by Cocov Destinations.    Note – this is an update to a prior post.